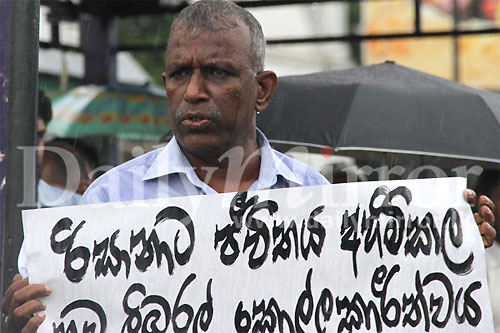 Following the beheading of Sri Lankan housemaid Rizana Nafeek in Saudi Arabia, the Jathika Hela Urumaya (JHU) yesterday called on the government to reconsider its policy of sending women to Saudi Arabia for employment.
JHU Leader, Ven. Omalpe Sobitha thera, in a press release, said that the government should consider sending only trained male employers abroad from Sri Lanka and that too after considering the age of the individual. The thera also suggested that the government bans sending Sri Lankan employers to countries ruled by religious restrictions in the aftermath of the recent tragedy.
"Disregarding bilateral relations with Sri Lanka, the Saudi government went ahead with the beheading according to their law. So from this we should understand the tough and inflexible nature of Shariya law. It is obvious that any international or local request based on humanity will not be accepted by their country. So we think the government should take a firm decision about sending women to Saudi Arabia for employment," Omalpe Sobitha thera said.
Source: Daily Mirror - Sri Lanka
comments powered by