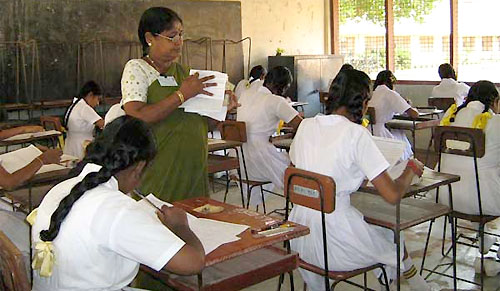 The CID informed the Kaduwela magistrate's court yesterday that they suspect more than 2,000 copies of the scanned science question paper of the G.C.E (O/L) examination had been distributed among tuition going students of Colombo, Gampaha and surrounding areas.
The CID also told court that they were in the process of obtaining statements f rom several students.
The CID revealed these facts yesterday when the complaint regarding the leakage of the G.C.E(O/L) question paper was taken up for hearing before the Kaduwela Magistrate and Divisional Judge Lanka Jayaratne. The police informed the court that they have yet to receive a comprehensive report on the computer and the scanner that had been allegedly used for this crime, and requested that bail should not be allowed to the suspects who are now in custody as it might hinder their interrogation of the students.
The suspects in this case were identified as Aththatage Sampath of Kelaniya Dickpitiya road, his office assistant Lakshan Jayasinghe, Niroshan Sanjeewa, a salon owner of Naiwala, private tuition teacher Siriwardena Jayasekara and Mangala Priya Shantha, a machine operator attached to the Examination Department.
Source: Daily Mirror - Sri Lanka
comments powered by