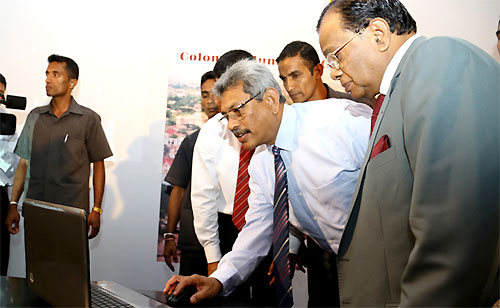 The government will give top priority to eliminating the underworld and the narcotics mafia in Colombo and will seek to end these social ills in the New Year, said Defence Secretary Gotabaya Rajapaksa. Mr. Rajapaksa who was addressing the launching of the new website of the Colombo Municipal Council yesterday said the government had given top priority to ending these social ills as it was the wish of the people. "Whenever I visit low income dwellings, people ask me to save their children from illegal narcotics and from the under world and, therefore, we will do our utmost to do so," he said.
The Defence Secretary said the police would be told to be very strict when handling members of the underworld and drug traffickers. He said no mercy would be shown to the police if they let the criminals escape.
He said low income dwellers would be inconvenienced when the government went ahead with its urban development plan. He requested the affected people to bear with the government as those whose houses were demolished would be provided alternative accommodation. Mr. Rajapaksa said the UNP and the government had come to an understanding about running the Colombo Municipal Council and developing Colombo City. "We have put our political differences aside in this process," he said, emphasising that all the development work in Colombo City was carried out together by his ministry and the Colombo Municipal Council. Colombo Mayor A. J. M. Muzammil and several senior members of the UNP were present at the ceremony.
Source: Daily Mirror - Sri Lanka
comments powered by