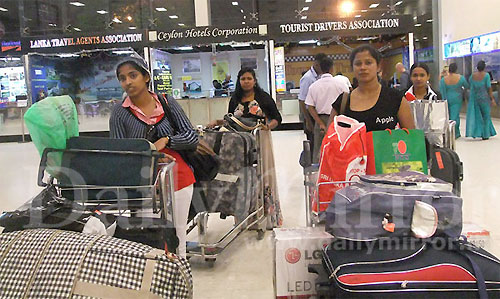 Twelve Sri Lankan women employed at a janitorial service in Abu Dhabi, out of the 101 Sri Lankan women alleged to be forcibly detained by the company returned to the country yesterday, after being released on an order by the Labour Tribunal of Abu Dhabi.
The women aged between 22 and 38 and are residents of Negombo, Wennappuwa, Gampaha, and Hanwella. One who had suffered a nervous breakdown and another, to whom doctors of Abu Dhabi had recommended womb surgery, were among the returnees.
They alleged that even after the expiry of their service contract, they had not been allowed to leave but compelled to work for another six months.
It was also revealed that there were more than 300 Sri Lankan women working at the company in question and some of them, despite being medically indisposed were continuously assigned with duties, thereby preventing them from leaving.
Failing in their attempts to convince their employers about the need to return home, they had sought the assistance of the embassy, whose timely intervention had prompted the Labour Tribunal to release them to return home.
Many other Sri Lankan women employed by this company were afraid to complain to the authorities about their employers and continued to work there, it was revealed.
The returnees expressed their gratitude to the First Secretaries of the Abu Dhabi Sri Lankan Embassy, M.z2E.G. Samaraweera, Wishva Dissanayake and others who had rendered a valuable service in handling their safe return home.These women had been employed on a salary of 800 Dirham for a twoyear period.
Source: Daily Mirror - Sri Lanka
comments powered by