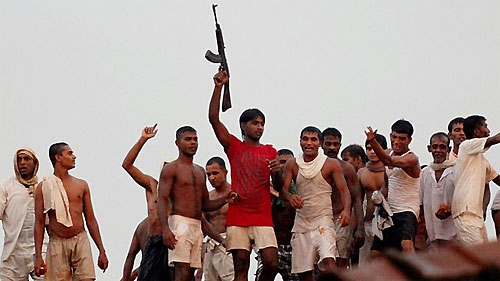 Setting up a high security facility in the Manathivu Island off Batticaloa is among the proposals that the government is studying to house hardcore criminals, highly placed prison sources said. The proposal has been made following the Welikada prison riots which was led and carried out by hard core inmates who were inside the L-Hall and the Chapel Ward. It is the Chapel Ward where the hardcore inmates are under detention and under strict surveillance.
Currently in the Manathivu Island, a Leprosy Hospital is situated with a handful of patients who have been living there for more than three decades.The Vavunathivu area in Batticaloa has also been identified as a possible location to set up a high security facility, if they fail to go forward with Manathivu Island.
However, the government is still reluctant to go ahead as it has identified such islands to be developed as prime tourist destinations.
A senior prison officer said that hardcore inmates had to be placed under high surveillance. "If not they have the potential to organize groups within prisons and carry out barbarian acts," he said.
"An island is always a good option as it is easy to provide security. The chances of escaping from it also stand at a lowest point due to its geographical position," he added.
"But this time the need had struck the attention of prison authorities to implement such a proposal following the Welikada prison riots which led to the deaths of 27 inmates, most of them were hardcore prisoners," he added.
Following the riots, prison authorities have taken number of steps to improve the efficiency, security and surveillance capabilities within prisons.
They are currently in the process of recruiting 200 prison guards and jailers, installing scanners in the prisons to prevent smuggling while strengthening the number of intelligence officers by two folds and making a special unit with 300 such officers.
Source: Daily Mirror - Sri Lanka
comments powered by