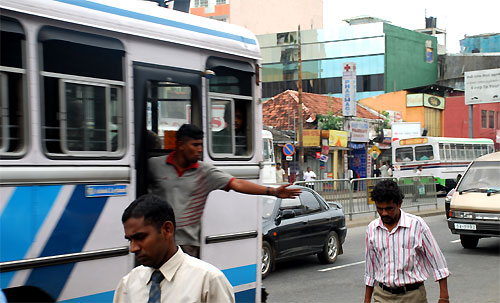 Private bus drivers and conductors in the Western Province said yesterday they would stop wearing their uniform from midnight tomorrow and would stop work if they were not provided with new uniforms, Employees Provident Fund (EPF) and Employees Trust Fund (ETF) and other benefits.
The All-Ceylon Private Bus Employees Union (ACPBEU) said its members would refrain from wearing the cream shirt unless the WP Road Passenger Transport Authority took steps to ensure that bus conductors and drivers received free uniforms, EPF and ETF benefits, and toilet and water facilities for bus employees.
Union General Secretary Upul Premasiri said bus employees were issued with free uniforms in 2009 but it had not happened thereafter. He said bus employees had to sew their own uniforms as a result and were charged a fine by the transport authorities if they did not wear the uniform.
"Initially the fine was Rs.250, then it became Rs.500 and then Rs.750. On a fourth consecutive occasion they suspend our services for 14 days and we have to take part in a mandatory training programme. If they continue to impose a fine from next month then all bus employees in the WP will stop work," Mr. Premasiri said.
Source: Daily Mirror - Sri Lanka
comments powered by