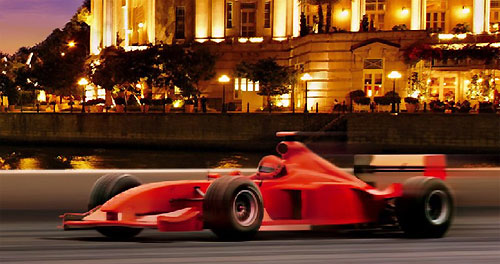 Colombo City is to be transformed into a racing circuit for two days for the Colombo Night Races to be held on December 14 and 15. Close to 150,000 sandbags along with 5,000 tyres and 3,000 metres of chain link are being laid along the race track which spans from Hotel Galadari to York Street and back to the starting point.
Organisers stated that extensive safety measures had been taken to ensure the safety of the spectators. They said the track had been extended in comparison to last year and would allow spectators to watch safely rather than stand on the tracks and also allow a larger number to be seated.
They further added that events had been reduced to eight in comparison to last year which held 22 events, ensuring the races would end by 1.00 a.m and not by 6 a.m.
The races are planned to start from Lotus Road in front of the Galadari Hotel. It would then go through the Ceramic Junction, a left turn from the CTO Junction, Chatham Street, Baron Jayatillake Mawatha and then a left turn towards York Street and then towards the York Street-Bank Road Junction. From the junction, turn right towards Janadipathi Mawatha, NSA roundabout and finally back to Lotus Road.
Currently these roads are repaired by authorities to suit the cars and motorbikes that are scheduled to participate in the racing events.
According to the organisers seven Car events and four Motor Cycle events are scheduled to take place with teams from Malaysia, Indonesia, Australia, Japan, Macau and India participating.
The car events are GT-3 and GT – 4 International Event (Race 1 and 2), VW Polo Cup, Toyota Etios Event, SL-H Cars up to 1600cc, SL- GT up to 3500cc and Formula McLarens 1300cc.
The motorcycle events are Racing and Modified over 250cc, Racing and Modified up to 125cc (2T0 and up to 250cc (4/T), Super Motard Open (Racing and Modified over 125cc) and Standard 250cc.
A special security plan is to be conducted during the course of the two days. Security will be provided by the police, the elite Special Task Force (STF) and the Army as a large crowd is expected to arrive to witness the event.
Police Headquarters said they were arranging a special traffic plan to be conducted at selected time slots on Friday (Dec 14), Saturday (Dec 15) and Sunday (Dec 16).
According to the police a special traffic plan will be conducted separately for light vehicles and heavy vehicles. It is the second such event to be held. The inaugural night races were held last December.
Organisers also said roads would be open after every three events for half an hour for the movement of hotel guests.
Source: Daily Mirror - Sri Lanka
comments powered by