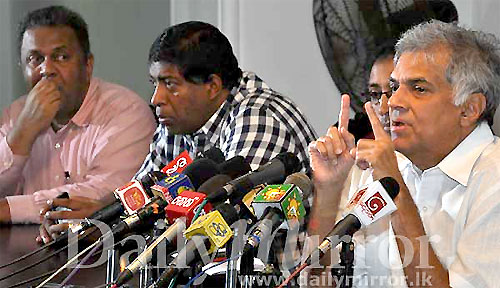 The committee stage of the Budget cannot go ahead today till the government makes amendments to the appropriation account in accordance with the judgment given by the Supreme Court, Leader Opposition Ranil Wickremesinghe said yesterday. He said Budget 2013 would stand illegal until the amendments recommended by Supreme courts were implemented.
The court held that the permission granted to the Minister of Finance to withdraw money allocated for specific purposes and/or from the Consolidated Fund presents "a direct challenge to the onus of Parliament to have full control over public finances as protected by Article 148 of the constitution." The court, however said the provision could be made to comply with the Constitution if it was amended to read that such withdrawal of money could be done with Parliamentary approval. The Supreme Court also said borrowings too were against section 148 of Sri Lanka's constitution.
Mr. Wickremesinghe who held a discussion with university dons at Mayor's house yesterday said on the appropriation account the government should make necessary amendments as the Supreme Court had held that Parliament's approval was needed for the government to transfer the funds allocated from one ministry to another and also before borrowing. "The Supreme Court had therefore said that the Appropriation Bill is against the constitution," he therefore said. The opposition leader said the amendments could be made by changing standing orders according to article 74 of the Constitution.
Mr. Wickremesinghe therefore criticised the government for failing to give an assurance to the House that the Amendments would be made. He said the government refused to give this assurance when the matter was raised during the vote of the second reading on Saturday.
Further he charged that the government had decided to go ahead and get the budget passed following the advice of the International Monitory Fund.
Meanwhile Chief Opposition whip John Amaratunga told the Daily Mirror that he would highlight this point before he opens the committee stage debate of the budget in Parliament today. Mr. Amaratunga said the country would plunge to an economic crisis if the committee stage went ahead without making amendments as the government would not be able to collect taxes as nobody would be bound to pay as long as the Appropriation Bill remained illegal.
Source: Daily Mirror - Sri Lanka
comments powered by