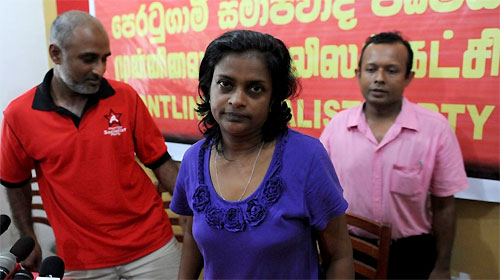 Frontline Socialist Party (FSP) in the wake of Saturday's arrest of their stalwart Udul Premaratne said this year alone the Janatha Vimukthi Peramuna (JVP) has attacked them more than 23 times as a result of which eight people were seriously wounded.
'We complained to the police about their actions against us, but no action was taken to stop those attacks. But when the JVP complained against us, they immediately arrested our frontline member Udul along with two other JVP members. The two JVP members were released the following day. This is the politics that the JVP is conducting, but it is far from leftist politics. It is the politics like what President Rajapaksa is adopting. The only difference is that the JVP is doing it while being in the left."
"Attacks by the JVP on us are a shame as the November Heroes Day Commemoration scheduled to be held on Tuesday and a stain on the true reasons behind the forming of the JVP and on leftist politics. The government and the police are helping the JVP to attack the FSP, he said.
'These are acts conducted with the blessings of the government and the police. The JVP was engaged in removing FSP posters yesterday and the same thing was done by the Sri Lankan navy. We ask the JVP members whether their leaders are acting against the government or the FSP? What is the vision behind their politics? They do not allow us to engage in politics so we are ready to do whatever it takes to exercise our political rights." Nagamuwa said.
Meanwhile Udul Premaratne was released on bail by the Nugegoda magistrate yesterday. The FSP November Heroes Day Commemoration is scheduled to be held at Hendry Pedris grounds in Colombo at 3.00 p.m on Tuesday.
Source: Daily Mirror - Sri Lanka
comments powered by