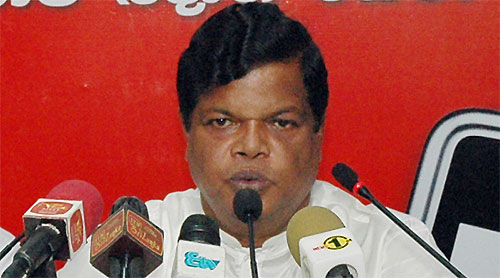 Upon the government's indifference to the ultimatum issued by teachers' and principals' unions in granting their demands, the Teachers' and Principals' Trade Union Collective is due to hold a decisive meeting today, with regard to the future course of action to win their demands.
The representatives of the 15 teachers' and principals' trade unions said they would be taking a decision at today's meeting concerning the trade union actions that would be taken against the government's lax attitude towards their demands, including a massive strike that would encompass officials of the 9000 schools located countrywide.
The unions marched to the Education Ministry two weeks ago, calling for Education Minister Bandula Gunawardena and the relevant officials to grant six main demands, which included an immediate resolution to their longstanding salary anomaly and a six percent GDP allocation to the education sector.
However, during a media briefing at the Education Ministry on the same day of the protest march, Minister Gunawardena expressed his displeasure at engaging in a dialog with the protesting trade unions, claiming their struggle was only a guise to win political mileage.
"The current Education Minister has not held a single discussion with the teachers' or principals' trade union representatives regarding any of the policies that were implemented in the education sector since his appointment. We are protesting against his arbitrary attitude," Ceylon Teachers' Union General Secretary Joseph Stalin said.
Source: Daily Mirror - Sri Lanka
comments powered by