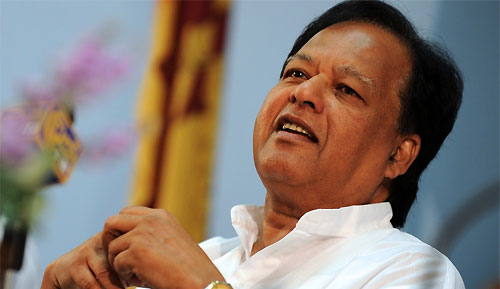 Senior Minister in charge of International Monetary Cooperation and Deputy Finance Minister Dr. Sarath Amunugama said yesterday that the forthcoming budget would address the weaknesses of financial and administrative regulations that hindered speedy progress.
Minister Amunugama said the government was contemplating drastic changes in the financial and administrative regulations (FRs and ARs), which it thought were presently impediments to economic growth. He added the budget 2013 would address these issues and place new proposals for better financial and administrative management.
"Sri Lanka has transformed itself from a lowincome country to a lowmiddle-income country and the Per Capita Income (PCI) has increased to US$ 2,400 from US$ 1,000 within six years. The target of the government to increase the PCI to 4,500 by 2015 would not be met unless we revisit and introduce comprehensive changes to the decades-old FRs and ARs, in keeping with the growing economy," Dr. Amunugama said.
The Auditor General had severely criticised the narrow interpretation of FRs and ARs at the Public Accounts Committee (PAC), he said. The subjects of discussions revolved on trivial matters, but important ones such as corporate plans, proper use of resource-allocations and encouragement of new management plans were not reflected in the discussions, Minister Amunugama pointed out.
Making a scathing attack on district-level bureaucracy, Dr. Amunugama said those who refused to accept change were hampering the development of the country. The red-tape and love of paper-work had become obstacles to the development of the rural people, he concluded.
President Mahinda Rajapaksa is expected to present the budget 2013 in Parliament on Thursday.
Source: Daily Mirror - Sri Lanka
comments powered by