The bodies of four youth were found in a culvert after being shot and hacked to death by a rival underworld gang in the Poddala area in Galle early yesterday.
Police believe the killing was linked to the October 25 killing of Kumara Seneviratne who was hacked to death in the Galle town allegedly by the victims.
The four bodies were found near a by-road leading to a tea estate and the Poddala- Galle main road. The bodies were found lying on top of each other with their hands and legs bound. They were also blindfolded.
Police Headquarters said the four victims were wanted over the death of Kumara Seneviratne and also for taking away his gold chain. 48-year-old Seneviratne was the brother of slain Galle Municipal Council Opposition Leader Dushyantha Seneviratne who was killed in 2009 by an underworld gang.
The victims in the 20-30 year age group were identified as Amila Nishantha of Pilana, Janaka Jayasekara of Ambalanwatta, Anekapura Pushpakumara of Ambalanwatta and Malik Nishantha also of Ambalanwatta.
However police spokesman Prishantha Jayakody said during a raid carried out in Akmeemana yesterday the police arrested three men suspected to be involved in the brutal killings.
A large number of people had gathered in the vicinity of the scene in Walpitawatta, Poddala and the police had to cordon off an area of about 100 metres.
The magisterial inquiry was conducted by the acting Baddegama Magistrate yesterday and the bodies were sent to the Karapitiya General Hospital for post mortems.
Special teams from the Galle Police Division and Poddala police are investigating into the incident under the directions of Galle SSP Vaas Gunawardena.
Police said that investigations were underway to arrest the four youth over the death of Seneviratne, but the other party had been quick on taking revenge.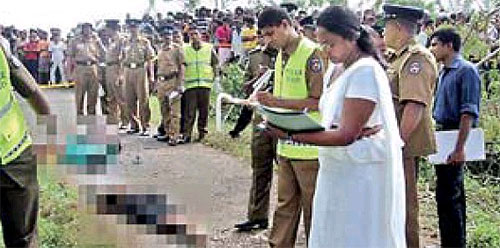 The magisterial inquiry being conducted yesterday amidst a large crowd that gathered in the vicinity.
Source: Daily Mirror - Sri Lanka
comments powered by