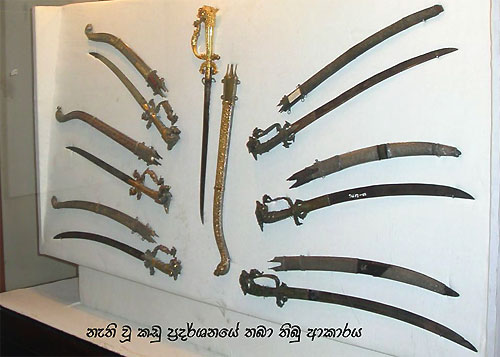 The sword used by the Nugawela Adikaram which was among the archeological items stolen from the National Museum had allegedly been sold for Rs 30,000 to a businessman in Galgamuwa, the main suspect in the theft Lansage Priyantha Mendis alias Kangetta had revealed to police during questioning, police sources said.
Following this revelation, the CID has launched investigations to arrest the businessman who allegedly bought the sword.
The businessman is believed to have associated the suspect while he was working as a labourer in a rice mill in Galgamuwa.
Before the National Museum robbery the suspect had visited museums in Polonnaruwa, Anuradhapura, Mihintale and Galle and searched for valuable archeological exhibits in these places.
The suspect was arrested on 27 October by the CID when he was working as a mason at a tourist hotel in Negombo.
Source: Daily Mirror - Sri Lanka
comments powered by