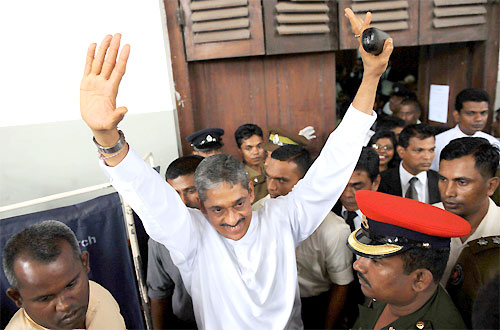 The Court of Appeal yesterday appointed the new Divisional Bench of three judges to hear and conclude the Writ petition filed by former Army Commander Sarath Fonseka seeking to sit and vote in Parliament.
When the matter came up, the President of the Court of Appeal S. Sriskandarajah nominated a Bench of three judges with Justices Sisira de Abrew, A.W.A. Salam and Upali Abeyratne. The matter was fixed to be mentioned on December 12.
The Court has already directed the Registrar of the Court to send letters to the Secretary to the Justice Ministry as well as the Secretary to the President asking for the copy of the order by the President granting pardon to former Army Commander Sarath Fonseka enabling his release.
The President granted pardon to Fonseka under Article 34(a) which reads as follows: The President may in the case of any offender convicted of any offence in any court within the Republic of Sri Lanka grant a pardon, either free or subject to lawful conditions. The Petitioner Fonseka was seeking the Court for an order directing the Respondents to take all necessary steps according to law to enable him to sit and vote in Parliament and to exercise his powers, privileges and immunities as a Member of Parliament.
Source: Daily Mirror - Sri Lanka
comments powered by