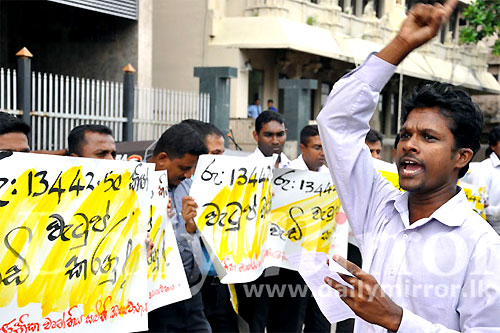 Inland Revenue, Customs and Excise Department employees said yesterday that they would stage a mass demonstration outside the Inland Revenue Department Headquarters today to urge the government to increase wages by Rs.13,442.50 in the forthcoming 2013 budget.
The Inland Revenue Employees General Union said they were prepared to halt work and go on a continuous strike if their demands were not met.
Union General Secretary Ajith Pushpakumara said according to the Central Bank Report and other government data the cost of living was Rs.25,344 for a family of two members in 2006 but that it had risen up to Rs.46,396 at the end of August 2012.
"Since then the cost of living has risen by a margin of Rs.21,052 but state employees' allowances have only increased to Rs.7609.50.
We demand the authorities to provide the remainder which amounts to Rs.13,442.50," Pushpakumara said.
When asked if the unions were confident of receiving an increase in wages in the budget, he said it was the unions' duty to request for these demands on behalf of the employees of the respective unions and it was the government's responsibility to fulfill the people's expectations.
Spokesmen for the All Ceylon Customs Service Union and the All Ceylon Excise Services Union said they would join the protest and resort to more severe trade union action if their demands were not met.
"The prices of goods are increasing everyday. We expect some relief from this increasing trend of inflation," an All- Ceylon Customs Service spokesman said.
The three unions are members of the National Trade Union Center (NTUC) which has demanded for a wage increase for both private and public sector employees. The NTUC has a membership of 366 unions in all sectors countrywide.
Source: Daily Mirror - Sri Lanka
comments powered by