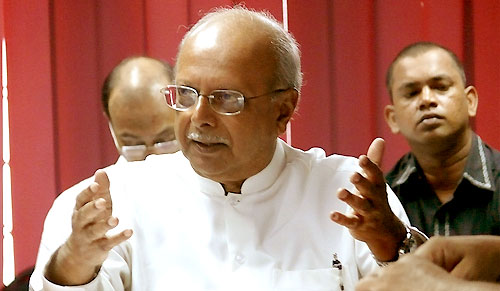 LSSP Leader and Senior Minister Tissa Vitharana said yesterday the demand by certain government members to abrogate the 13th Amendment could be an international conspiracy to embarrass Sri Lanka at the November UNHRC sessions in Geneva.
"Those who are campaigning against the 13th Amendment were supplying ammunition to our detractors who are hell bent on destabilizing Sri Lanka. The suggestions to abrogate the 13th Amendment to the Constitution was extremely unfortunate and will bring vastly negative repercussions," said the minister who chaired the APRC and submitted a set of proposals on power devolution to President Mahinda Rajapaksa
"I am sorry that some government members are carrying out a campaign to abrogate the 13th Amendment to the Constitution which introduced the Provincial Council system that led to all the militant groups except the LTTE to give up arms and enter the democratic process under a unitary state. If under any circumstances the 13th Amendment and thereby the PCs were abrogated –I hope it will never happen – it will diminish and dash all hopes of not only Tamils but all Tamil-speaking people of this country to live in a united Sri Lanka as one nation with the Sinhalese. This is disastrous to the extreme," Prof. Vitharana told Daily Mirror.
He said if there were weaknesses in the 13th Amendment those had to be corrected in a collective effort which will meet the aspirations of all Sinhalese, Tamils and Muslims. The position of the LSSP is that the 13th Amendment has to be further strengthened by devolving power to the village level to ensure there would be no seeds of separatism on Sri Lankan soil.
EPDP leader and Minister Douglas Devananda said the party's stand on the 13th Amendment and PCs remains the same and added that the agitation to abrogate it would be highly detrimental to the process of national reconciliation and peace.
"The EPDP not only accepts the 13th Amendment but it wants to go beyond it to strengthen Provincial Councils and devolve power further," Minister Devananda said.
Democratic Left Front Leader and National Languages and Social Integration Minister Vasudeva Nanayakkara said he was totally against the suggestion to remove the 13th Amendment from the Constitution as it helped to bring many militant groups to the democratic process and devolution of power.
"There may be weaknesses in the 13th Amendment but its abrogation is not the solution. I see the suggestion to abrogate the 13th Amendment as an attempt to reverse history," Minister Nanayakkara said.
Meanwhile, TNA leader R. Sampanthan said he would reply to the demand to abrogate the 13th Amendment if and when the government expressed its official position on the issue.
"I will make my views known to all and sundry if the government accepts that the 13th Amendment has to be abrogated," Mr. Sampanthan said.
Source: Daily Mirror - Sri Lanka
comments powered by