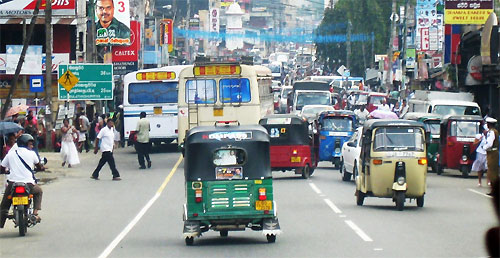 Restriction on xenon headlights and reduced fines for minor offences such as the failure to wear a seat belt are some of the amendments being introduced to the Motor Traffic Act by the Department of Motor Traffic, the Motor Traffic Department Chief said yesterday.
He said the Police would also be authorised to impose spot fines.
Commissioner General S.H. Harischandra told Daily Mirror the Department would introduce a series of amendments to the Motor Traffic Act to further enhance the safety of passengers, pedestrians, drivers and the people.
He said the use of xenon lights on motor vehicles would be restricted because studies have found that xenon lights are a visual handicap to drivers of oncoming vehicles.
Mr. Harischandra said in a bid to prevent sound pollution, the Police would be authorised to crackdown on the excessive use of vehicle horns and sound emissions from engines. Under the new regulations, the police will take action on beat barrels, extremely loud horns and extraneous sound gadgets fixed to vehicle engines.
"Police have been instructed to detect motor vehicles ranging from three wheelers to mega container carriers that produce excessive sound leading to sound pollution.The new laws permit a maximum sound level of 105 decibels up to a distance of two metres in open space from the front of the vehicle when the vehicle is in a stationary position and the engine is switched on. It is 93 decibels from a distance of seven metres.
Environment Minister Yapa said the Police have been instructed to keep a check on offending motor vehicles.
The restriction specified under this regulation shall not apply to Ambulances, Trains, Fire-Brigade Vehicles, Police vehicles and Vehicles used by the Armed Forces.
These regulations would not apply to horns which are fitted to vehicles used in times of an emergency or a disaster, to convey information to the general public.
A sound level meter shall be calibrated before and after each series of measurements, using a Class 1 acoustic calibrator.
Mr. Harischandra said registration of motor vehicles had been reduced after the import taxes were increased. The Department of Motor Traffic has decided to make it mandatory for all hiring trishaws to attach hiring mileage meters.
Accordingly all trishaws will have to run with meters fixed, Motor Traffic Commissioner. L.H.Harischandra said yesterday. He said amendments to the Motor Traffic Act would be introduced to facilitate this requirement.
Today there are about 400,000 hiring trishaws in the country.
Source: Daily Mirror - Sri Lanka
comments powered by