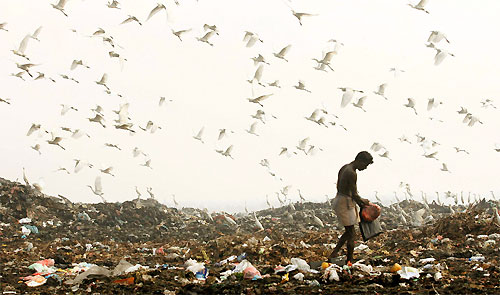 A garbage recycling plant in greater Colombo is set to provide 40 megawatts of power to the national grid using garbage collected from Kotte, Moratuwa, Dehiwala, Mt. Lavinia, Maharagama, Kesbewa, Panadura, Homagama and Boralesgamuwa.
The recycling project initiated by the Western Provincial Council (WPC) is to be upgraded after the project caught the eye of a Korean company that offered to establish the power station using recycled garbage.
The 250 million US$ project is to be set up at the Karandeniya Kesbewa garbage dumping ground which is currently being used for the recycling project and is also the dumping ground of garbage from several municipal councils.
WPC Chief Minister Prasanna Ranatunga stated the project set up by the Council was already providing compost to the local markets and the mountain of garbage was put to better use by recycling it and now by the plan to contribute to the national power grid.
The project is to use 1,000 metric tons of garbage to generate electricity with the residue being pebbles and stones that can be used for paving roads.
"We have provided households with several small bins to collect different types of garbage separately, as it will make work easier for our workers," he said. The Chief Minister stated that 38 acres of land had been provided for the project. "The Ceylon Electricity Board (CEB) agreed to obtain power from the Korean company after it agreed to establish the power plant," he said.
He further added the WPC will be owners of the project but that it would be fully handled by the Korean group initially.
Garbage management authority WPC Director Rohan Priyantha stated the project would begin when approval from relevant authorities were received.
"We don't want to cure one sickness and create another, therefore the proposed project is being carefully studied before it is implemented," he said.
Source: Daily Mirror - Sri Lanka
comments powered by