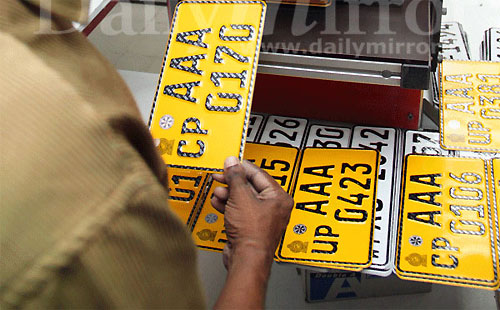 Vehicle number plates beginning with three English letters introduced recently by the Motor Traffic Department can accommodate up to 6.4 million vehicles in its registry. The new registration numbers were first given to trishaws and it will be introduced to other types of vehicles when the current two letter English registry ends.
English number vehicle registry was introduced in August 2000 and till June 2012 the department had registered 3,046,008 vehicles.
The department said the number issuing process will be carried out on a long term basis as it bore three letters and as such the identification of the numbers would be easy.
It said the three-letter vehicle registry could be used to a maximum of 20 years without any problem. The Motor Traffic Chief said the Department had replaced the first vehicle registrations the Sri series, with the two English-letter series and would now introduce the three-letter series. Sri Lanka has a booming market for vehicles with imports worth nearly Rs.219 billion in 2011.
However because of the increase in taxes, vehicle imports had decreased sharply this year.
Source: Daily Mirror - Sri Lanka
comments powered by