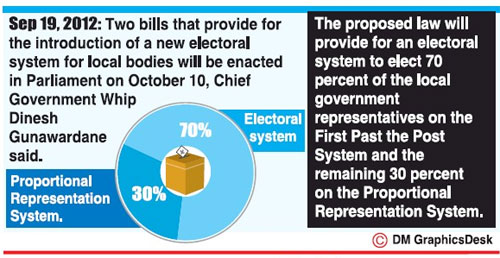 The Elections Department and the People's Action for Free and Fair Elections (PAFFREL) have faulted the proposed Bill for a new electoral system, officials said yesterday
They said the Bill, which among others, also sought to vest the subject minister with powers to decide on the appointment of delimitation committees to demarcate boundaries of wards.
The government has decided to enact two legislations in Parliament next week to introduce a mix of the first-past-the-post system and the proportional representation system to elect members to local government bodies.
PAFFREL's Executive Director Rohana Hettiarachchi told Daily Mirror the subject minister would have the power under the proposed legislation to appoint delimitation committees and to make transfers or removals.
"This is not a democratically viable option. When the subject minister is given such powers, he or she can demarcate the boundaries of electoral wards to suite the interests of his or her political party. By demarcating boundaries in an ad hoc manner, the minister can change even the demographic composition of an electoral ward for his personal or political ends. We want to amend this clause in the bill," Mr. Hettiarachchi said.
PAFFREL, which is a leading election monitoring body, said the bill had lacunas in several other areas as well.
Mr. Hettiarachchi said under the proposed law, an independent candidate would have to make a cash deposit of Rs.20,000 instead of Rs.2500 as at present if he or she wanted to contest an election.
Source: Daily Mirror - Sri Lanka