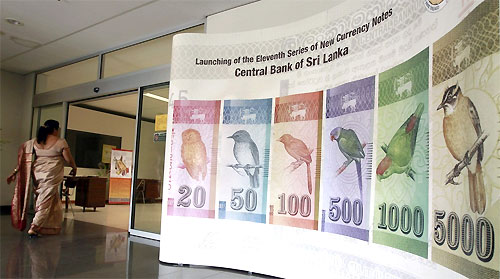 The International Monetary Fund (IMF) has offered Sri Lanka another loan package in the wake of the successful completion of the US$2.6 billion Stand-by Arrangement, Central Bank Deputy Governor Nandalal Weerasinghe said yesterday.
"A five-member IMF delegation is in Sri Lanka for a routine check on how the country is progressing on development issues and on the utilisation of the SBA. The IMF has offered another package and it is now up to Sri Lanka to decide on the amount and the conditions if interested," Dr. Weerasinghe told Daily Mirror.
He said the IMF had not given any particular time frame for Sri Lanka to forward its proposals on such a loan package.
The delegation was here till yesterday and its discussion with the Central Bank had been chaired by Governor Ajith Nivard Cabraal. Mr. Cabraal is on record as saying that Sri Lanka would opt for a one-billion-US dollar-loan under an Extended Fund Facility (EFF).
It is likely that the new loan facility will be extended to Sri Lanka on the same conditions as that of the SBA.
Meanwhile, Asian Development Bank (ADB) Vice President Xiaoyu Zhao met Economic Development Minister Basil Rajapaksa on Thursday at his ministry.
Mr Zhao is expected to review the progress of the ongoing ADB funded projects and negotiate funding for future projects.
He said Sri Lanka had a bigger potential among other Asian countries to become the most viable and attractive regional economic hub.
"Strategic location, post conflict infrastructure development initiatives, peace and stability, high economic growth and able leadership are the main factors behind this potential," he said.
Mr. Zhao said it was decided to initiate a joint investment promotion programme between the Economic Development Ministry and the ADB.
"The programme will be coordinated by the ADB and it will use its good offices to inform the international investor community of the available opportunities for investment, new economic trends, peace and political stability in the country," Mr. Zhao stressed.
Source: Daily Mirror - Sri Lanka