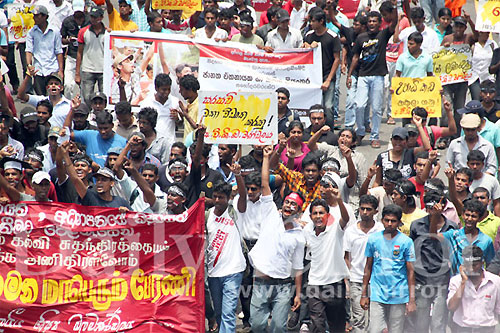 The Federation of University Teachersí Associations (FUTA) yesterday charged that the wage increase for university teachers that the government announced yesterday was merely an agreed increase of basic salaries stipulated in a circular issued in January last year and that the government was using it as leverage against the union. FUTA President Nirmal Ranjith Dewasiri said the government had agreed to provide an increase in salaries to all university teachers in two yearly installments in July and October.
He said the salary revision was made to rectify salary anomalies for academic and non-academic staff and therefore did not meet a single demand made by the union at present. He said according to the circular issued in January 2011 the basic salary of a senior professor was to be raised by 16%, senior lecturers by 5%, senior probationary lecturers by 3.5%. ďThere is nothing new in this wage increase. This is merely part of an agreement that required the authorities to increase wages by October 1. They are using this as leverage. But this has nothing to do with our ongoing trade union action or the demands that we have made now,Ē Dewasiri said.
FUTA has requested for a 20% increase in basic salaries for all university teachers among other demands. Dewasiri said the union had requested for a meeting with Treasury Secretary P.B Jayasundara to hold another discussion on their salary demands but said it had not yet received a response. Meanwhile Higher Education Ministry senior sources said that no decisions had been made on the unionís other demands and said the ministry could not have discussions with the union at this time due to the ongoing protest march.
Meanwhile the fourday protest march by the Federation of University Teachersí Associations (FUTA) and university students which began simultaneously in Galle and Kandy earlier this week will conclude at Hyde Park in Colombo today.
Thousands of university teachers, students, trade unions and civil groups took part in the protest march which would end with a massive rally at Hyde Park due to be attended by thousands of supporters. The university teachersí protest march which started on Monday began from Galle, will proceed to Colombo via Ambalangoda, Aluthgama, Kalutara, Moratuwa while the students protest march from Kandy will reach Colombo via Nittambuwa and Kelaniya. Some of the largest trade unions in the country including the Ceylon Teachersí Services Union, Free Trade Zones & General Services Employees' Union, Ceylon Federation of Trade Unions, Health Services Trade Union Alliance and over 40 other unions have given their support to FUTA and have assured that they would take part in the protest campaign and rally.
Opposition parties including MPís of the UNP, JVP and the Frontline Socialist Party will also join the rally. Those in diverse professions including lawyers had agreed to begin a procession from Hulftsdorp to Hyde Park as well.
Source: Daily Mirror - Sri Lanka