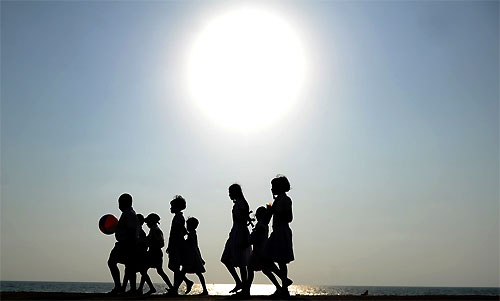 80% of Sri Lankan migrant workers are mothers and the ambiguity of the policies relating to migrant workers' children, has created much difficulty in finding alternate care-giving for the children, a study has revealed.
Terre des Homes, a non-governmental organisation focused on improving the living standards of children commissioned this study, of which the findings were revealed yesterday.
Kusala Wettasinghe an independent psychosocial practitioner who participated in conducting the study said, the government could not actively discourage parents from migrating for work as 40% of the foreign earnings were dependent upon them, but it should bridge the gap between policy and practice.
Referring to the study conducted in Ampara and Batticaloa, Wettasinghe said the government had a scheme of granting 3000 scholarships for migrant workers' children but in a particular district migrant workers alone were a total of 11,000.
However she noted that healthcare was one area which had achieved its goal of creating awareness about vaccination as children, although both parents had migrated attended vaccination clinics.
The study has revealed that 6.1% of children between the ages of 11-15 drop out of school and the dropout rate was equally prevalent in households where either the father or the mother had migrated. Further, 35% of children between the ages of 16-18 from migrant and non-migrant parents' families were not engaged in any form of formal educational or vocational pursuits. Dr. Harendra De Silva, a former chairman of the National Child Protection Authority said the migrant workers' children had special needs especially in terms of protection because extra martial affairs and child abuse could be seen in the migrant parents' households.
Meanwhile Marsha Cassiere-Daniel who is working with the Ministry of Education as a technical advisor on psychosocial care noted that the biggest problem for service providers is getting past the judgmental attitudes the society had towards migrant mothers.
"The society thinks that migrant mothers are 'bad mothers' and they associate the child's behavioural problems to the absence of the mother. The absence of the mother could be one reason but many other causes might be behind the child's issues. We have to get past these judgmental attitudes before we get to the real issues" she explained.
Source: Daily Mirror - Sri Lanka