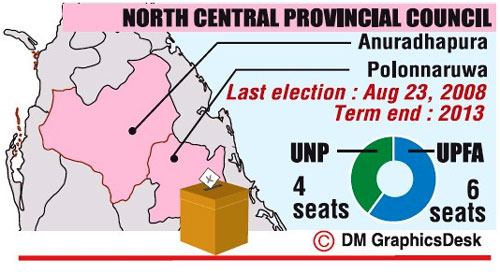 The North Central Province Civil Appellate Court Judge Nissanka Bandula Karunaratne yesterday extended the interim injunction issued on the North Central Province Chief Minister and the Governor restraining them from dissolving the Provincial Council till June 6.
The Judge also informed the petitioner and the respondents that on June 6 he would decide whether the restraining order would be enforced or annulled.he made this order when when the petition filed by United National Party (UNP) North Central Provincial Councillor Anil Ratnayake was taken up for hearing. The petitioner requested Court to issue an interim order restraining the dissolution of the NCPC before its term of office was completed.
Counsel Faiz Musthapha appearing for Chief Minister Berty Premalal Dissanayake said the NCP Civil Appellate Court had no Jurisdiction to issue this kind of a Writ and pointed out that the petitioner had submitted incorrect documents and information, and therefore pleaded that the court dismisses this petition.
Senior state consul Sanjaya Kodituwakku appearing for sixth respondent NCP Governor Karunaratne Divulgane in his submission said no intimation had been received by the Governor, from the Chief Minister or from anyone else indicating that the NCPC was to be dissolved therefore he questioned whether in such an event it was possible for someone to obtain a restraining order.
The petitionerís counsel said the argument that the Governor was not planning to dissolve the council could not be taken for granted as the same Governor in 2004 dissolved this council one year before its term ended and thereby had set a precedent. Therefore he said no one could vouch that the respondent Governor would not follow the same bad precedent on the instructions of the Chief Minister.
It is apparent that for reasons best known only to the respondents they had decided to dissolve the council before its term ends in gross violation of peopleís mandate.
Counsel Faiz Musthapha, senior state counsel Sumathi Dharmawardene, state counsel Sanjaya Kodituwakku, Ishan Ratnapala and Namal Rajapakse represented the Chief Minister, the Governor and the other respondents, while senior counsel Karunarathne Herath represented Anil Ratnayake the plaintiff.
Source: Daily Mirror - Sri Lanka