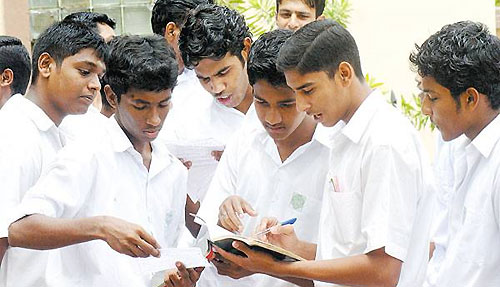 University lecturers yesterday threatened to stop the marking of A/L examination papers and cut short their involvement in preparing text books after a recent clash with the Education Secretary. The disagreement began earlier this month when university teachers were sent letters by Education Secretary H. M. Gunasekera saying that Grade 1 admissions were available at Anula Vidiyalaya in Nugegoda for children of university teachers.
A Federation of Universities Teachers Associations (FUTA) member said but the school had informed the teachers there were no such vacancies. He said when five university teachers had gone to the ministry to clarify this matter with Mr. Gunasekera they were ordered to leave after being told he did not care for university teachers,.
A Sri Jayewardenepura university teacher Anuruddha Pradeep said the teachers were forcibly escorted out of the premises. Thereafter a police complaint was made against the teachers.
"We are taking this matter very seriously. The Secretary said he did not care for university teachers and his action reflects negatively on his position as a responsible Education Ministry Secretary. Therefore we have decided to withdraw from school matters including that of preparing syllabuses, paper marking, and supervision. If he doesn't care for university lectures then what's the point," FUTA President Nirmal Ranjith Dewasiri said. He said some lecturers from some universities are considering going on strike. Dr. Dewasiri said the FUTA executive committee which is the largest university teachers union in the country, would meet next week to decide on the next course of action.
Source: Daily Mirror - Sri Lanka