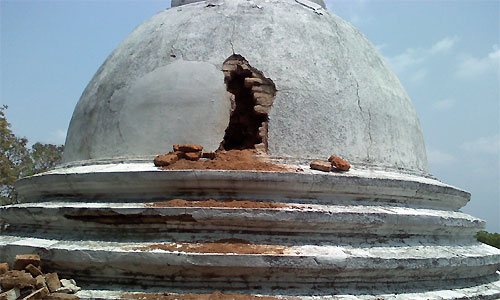 A total of 107 treasure hunting incidents, mainly in the Eastern Province, were reported this year and 350 suspects had been arrested in connection with these incidents, police headquarters said.
The incidents were reported in the Eastern, Wayamba and North Central Provinces. The total sum collected from suspects arrested since 2010 for treasure hunting, selling artifacts and destroying them, now stands at Rs.40 million.
Police media spokesman Ajith Rohana said that the police have been working closely with the Archaeological Department to curb the exploitation of our valuable treasures. "The public has a big role to play in the efforts to put a stop to these activities. These treasures are part of the 2500 year rich heritage of this country. Neither the police or the Archaeological Department can put a stop to the exploitation of our valuable assets alone and need the help of our people to do so," he said.
Most of these incidents had taken place in forest areas or abandoned areas especially in the Eastern Province. These suspects had used heavy mining equipment to dig for treasures. The police believe groups involved in treasure hunting are interconnected as it had been revealed that they share their knowledge with others who have knowledge of areas that are rich with artifacts.
In year 2010, 294 raids were carried out and in 2011, 220 raids were carried out and over 500 suspects were arrested for treasure hunting, he said.
Source: Daily Mirror - Sri Lanka