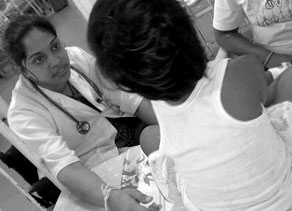 Anyone who sees Dr. Samitha Samanmalee manoeuvering around hospital beds today, would find it hard to believe that at one point of her life, she was lying almost lifeless on a bed, with minimal chances of becoming normal again. Yet, unlike the majority who took everything to be a creation of fate or bad karma, she swam against it.
In today's context where real heroes are extinct and zeros have taken their places, what makes Dr. Samitha a heroine is her unstinted courage to see the light at the end of the tunnel. It goes without saying that the path she had to tread was a hard one; tedious exams, clinical work and everything else even an ordinary medical student would find difficult. Yet, there is nothing ordinary about Dr. Samitha. She knew better than to dwell on the fatal accident that made her wheelchair-ridden. She is oneof thosefewwhoknewhowtomakelemonade when life throws lemons.
Her story also goes to show that the world is not entirely devoid of kindhearted people. Compelled to spend the rest of her life on a wheelchair, Samitha's success would not have been possible if not for her faithful friends who stayed by her side, the philanthropists and of course the media fraternity.
There is a misconception that the Press would only rush to the scenes where there is blood and political gore. Yet, the feature articles, news pieces and the columns contributed by her to various publications, might prove that media knew what it was doing; and part of Samitha's story is its story of directing the spotlight to places where it is needed.
In a world where the youth opt to take their lives for trivial reasons such as break-ups and exam failures, Samitha's life story teaches one that obstacles are not permanent and no one but oneself is the decider of his or her life's proceedings. Today, Samitha Samanmalee is a doctor at the Colombo General Hospital. She will continue to bring comfort and care for many patients with her healing hands; for she has learnt the alphabet of pain along with the mantra to overcome it. In a country where the rights of disabled are not well recognized and easy access is still a half reality, her determination will compel the authorities to look at those with physical imparities with a new found degree of respect. For those who are tired of enforced zero-worship, Samitha is a fighter in a real battle that ended in victory.
Her story is our story.
Source: Daily Mirror - Sri Lanka