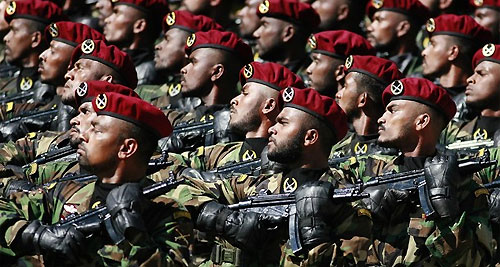 The Victory Day parade marking the third anniversary of the end of the war will be celebrated on 19 May at Galle Face Green under the patronage of President Mahinda Rajapaksa.
This year's parade will consist of 852 officers and 12,828 other rankers from the three armed forces, the police and the Civil Defence Force, Military spokesman Brigadier Ruwan Wanigasuriya said.
The parade will be commanded by Maj. Gen. Jagath Rambukpotha, who is the Commandant of the Defence Services Command and Staff College. He was the commanding officer of the 56th Division during the war.
The Army will consist of 398 officers and 4628 others rankers, the Navy with 115 officers and 2651 sailors, the Air Force with 78 officers and 1383 airmen, the police including the STF with 61 police officers and 963 policemen and the CDF with 30 officers and 462 other rankers.
The Army will have 148 vehicle columns including signal, engineering, infantry, mechanized and Special Forces vehicles. A fly past by the Air Force with 33 aircraft including helicopters will be held and it will consist of 23 officers and 167 airmen. The Navy will convoy in the seas using 72 vessels of different types and it will consist of 147 officers and 1574 sailors along the Galle Face coast.
The 'Parama Veera Vibushana Padakkama' medals will be given to families of war heroes during the ceremony by President Rakapaksa.
The Defence Ministry and the military will jointly organize the event to remember and honour members of armed forces and the police who contributed to the war victory. Victory Day will be marked in all nine provinces in the country.
Source: Daily Mirror - Sri Lanka