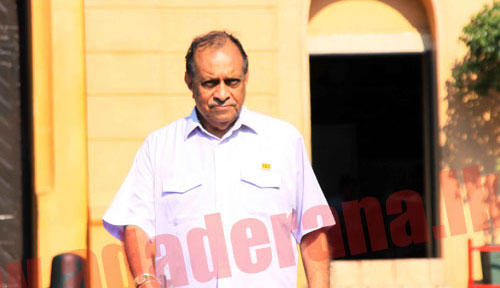 UNP MP Karu Jayasuriya said yesterday that he would take legal action against the Commissioner General of Prisons for denying members of parliament access to visit former Army Commander Sarath Fonseka in hospital.
In a letter to the Prisons Commissioner and Secretary of the Rehabilitation and Prisons Reforms Ministry, Mr. Jayasuriya said it was unlawful for the prisons department to deny MPS their visitation rights. In the letter Mr. Jayasuriya stated that according to the provisions of the Prisons Ordinance, Members of Parliament are entitled to visitation rights to persons who are imprisoned.
He said that though Gen. Fonseka was currently receiving treatment at the Nawaloka hospital, he remained under the custody of the Prison's Commissioner and that several MP'S including himself had been denied the right to visit him.
"There is an absolute necessity and requirement for us to exercise our rights in connection with General Fonseka's case in particular as his condition, health, welfare and general wellbeing is not only important to us as members of parliament but also forms an integral part of our wider obligation to the general public and several other legitimately interested parties who are monitoring this situation very closely," the letter read.
Source: Daily Mirror - Sri Lanka