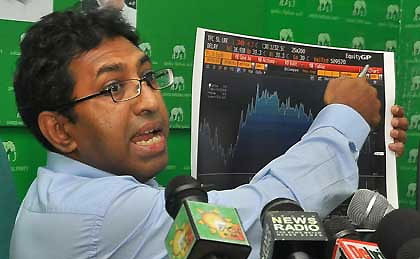 Main Opposition UNP yesterday requested the government to remove the present Chairman of National Savings Bank (NSB) as he had violated the Banking Act by getting the bank to invest in The Finance Co Ltd (TFC) which is a loss making financial institution.
UNP National List MP Dr. Harsha De Silva, who was speaking during the debate on new regulations imposed under the Strategic Development Act, in Parliament said the NSB chairman should be asked to resign or he should be removed from the post.
He said the NSB had purchased a share of this company at the rate of Rs 50 but the price had gone down to Rs 28.90 at the share market on Wednesday.
"Investors would lose their confidence in Colombo Stock Exchange through investments such as these," he said. The UNP MP said an astrologer had been appointed as the Working Director of NSB though the practice of having such a post (Working Director) is no more in banks.
Dr. Silva who raised the same issue at a news conference earlier during the day said the NSB Chairman had violated the Banking Act No 30 of 1980 as he had acted in contrary to the interests of the bank. He said this is a "serious act as NSB is the only bank where the government guarantees the deposits." Besides, the UNP MP said NSB was currently holding 16 million deposits.
Source: Daily Mirror - Sri Lanka