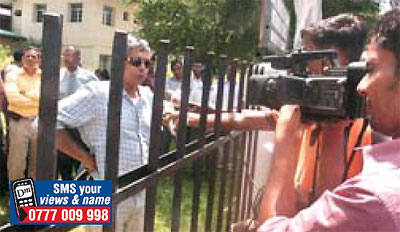 University teachers held a news conference on the road outside the Colombo University yesterday and charged that the Education Ministry was attempting to destroy the education system in the country.
They said some lecturers who had visited the Ministry last Friday were forcibly removed from the premises after an argument with the Ministry Secretary. The media conference was held in the blazing sun because the University authorities were not prepared to allow the media to enter the university despite FUTA having received prior approval.
The Federation of University Teachers Associations (FUTA) said Education Secretary H. M. Gunasekera had sent a letter to university teachers stating that children of university teachers would be allowed grade-1 admission at Anula Vidyalaya in Nugegoda on a special priority scheme.
However FUTA member Anuruddha Pradeep, who is also a teacher at Sri Jayewardenepura University, said he and four other university teachers were informed by the school that there were no vacancies. The teachers had gone to the Education Ministry to get more information on the admissions. They were informed by ministry officials that the matter should be discussed with the Secretary.
"We asked the Secretary what the procedure was and why there were no admissions available at Anula Vidyalaya even though the letter sent to us stated otherwise.
We asked him about the relationship that existed between the Education and Higher Education ministries and the functions undertaken by each ministry. We asked him to please explain but he did not give a proper reply but instead said that he did not care for universities and then told us to leave and then later told someone to put us out," Mr. Pradeep said. He said some people dressed in white shirts had then taken them out of the ministry premises.
Source: Daily Mirror - Sri Lanka