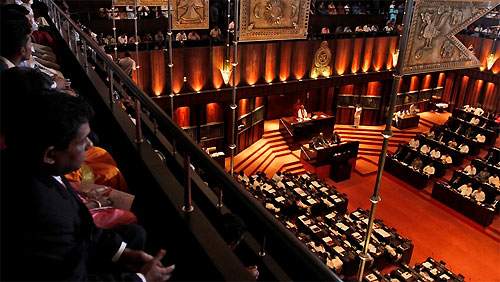 Insolence of parliamentarians has always been a cause of concern. Be it inside the House or out in the open, lack of contextual relevance in their speech, often makes the voters feel ashamed of their wrong choices.
The House has had its days when the school children in the gallery have been rushed out when the debates become heated arguments and the debaters themselves lose their sanity in the process. Sometimes, chunks of their speeches are left out from the Hansard for very obvious reasons. The question remains to be asked is whether the people accepted these tamashas as a feature in the package or whether they were compelled to ignore their annoying audacities in the process of choosing the ones who are less evil than the rest.
It is against this backdrop that Speaker Chamal Rajapaksa has requested the Members of Parliament to pay more attention to the manner in which they address each other inside the House. His comparison that their speeches are no better than those delivered by the members of the 'Maranadhara Samithi' (Death Donation Societies) might sound like an insult to the latter; for they know better than to unnecessarily interfere when one is expressing himself.
The drama at the House unfolded when Public Relations Minister Mervyn Silva started casting aspersions at UNP MP Ajith P. Perera during question time. The interference came when the latter was directing some questions at Internal Trade Minister Johnston Fernando regarding co-operative stores. It is indeed commendable the timely mediation by the Speaker which showed that there are still a few politicians who are keen on respecting parliamentary traditions.
However, it is not only the House that has become the venue for their tamashas, neither is it only the fellow parliamentarians who have become subject to each other's insolence. Be they the members of the government or those of the oppositions, when addressing the ordinary people, public servants and sometimes the members of the Press, their language often borders on rudeness.
What is sadder perhaps is that, the disciplinary committees of the political parties so far have not taken measures to curb their wagging tongues. These shallow talks not only expose their depthless characters but also reflect badly on the party hierarchy, who have entrusted them with responsibilities.
Wooing voters cannot always be done with money. Showing courtesy to the people who voted them into power and respecting the fellow parliamentarians, who perhaps may have more stars on their collars than the others, should not be exaggerated magnanimity. If they cannot fulfill half of the promises which got them there, maintaining their dignity should not be too much to ask for. After all, moneycannotearn respect; it finds the statesmen who know the worth of earning it and giving it.
Source: Daily Mirror - Sri Lanka