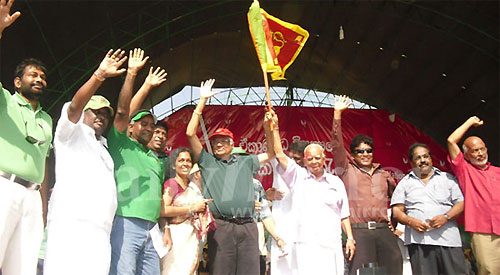 The government yesterday hailed the TNA leadership for hoisting the national flag at its May Day rally with the UNP, and interpreted it as a positive development.
Delivering the concluding speech during the debate, Leader of the House Nimal Siripala de Silva said that he was delighted to see TNA leader R.sampanthan hoisting the national flag together with the UNP leadership.
"It is indeed a positive sign for the reconciliation which we yearn for. Personally, I was happier than anyone else over this development. We say you had a successful May Day rally in Jaffna. Thanks to the efforts of the government, there is such an environment in Jaffna. In the past not even a few persons could get together for anything in that area," he said.
Referring to the proposed parliamentary select committee, he said that the government could start work on it even today if the TNA guaranteed its participation. "No political solution would be sustainable unless it gets the support of the southern political parties. We do not want to conduct the meetings of this select committee without the TNA'S participation," he said. The minister said that there was a historic opportunity now for the TNA to engage with President Mahinda Rajapaksa and evolve a political solution.
"The LTTE spoiled all such opportunities in the past," he said.
Commenting on the northern provincial council election, he said that it would be conducted immediately after the results of the population census were released.
"We have no interest in postponing it any further," he said.
Earlier, TNA MP Mavai Senathirajah asked when the government would conduct the election.
Source: Daily Mirror - Sri Lanka