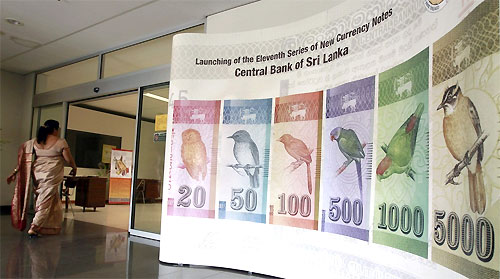 Amid reports that the government has negotiated another multibillion dollar loan from a Chinese Bank at commercial interest rates, mainly to settle the balance of payments crisis, independent economic analysts are raising serious questions as to whether the government regime and its main economic advisers are working with a clear vision and mission.
In 1970 then Finance Minister N.M. Perera of the United Front Government presented a socialist-oriented budget with a clear vision of more national production, reducing imports and increasing exports and bringing about a more equitable distribution of wealth and resources. Dr. Perera widely acknowledged as one of Sri Lanka's best economists since independence, said he saw the dim light of a distant dawn and urged the people to co-operate with the Government in climbing every mountain and searching every sea till the vision of a just and stable Sri Lanka was reached.
To achieve the goal of a more equitable distribution of resources, the UF Government introduced laws imposing a ceiling on land and houses. This was based on the fundamental precept that the mission of alleviating poverty could not be achieved by doling out Janasaviya or Samurdi crumbs. Instead if a poor family was given a plot of land, a house and a low-interest loan to begin some sort of self-employment, then the human dignity of that family could be restored within months.
To achieve the goal of reducing imports and increasing national production, the UF Government set up scores of state corporations to manufacture items ranging from steel to paper. Thousands of productive or creative jobs were also given to Sri Lankans.
With the landslide victory of J.R. Jayewardene's United National Party Government in 1977, Sri Lanka swallowed wholesale the globalised capitalist market economic policy. Imported items, including food unfit for human consumption was forced down the throat of the country. The State Corporations manufacturing steel or paper were neglected and left to die. After the Jayewardene administration, the Governments of Ranasinghe Premadasa, Chandrika Bandaranaike Kumaratunga and Mahinda Rajapaksa claimed they were following a mixed economy or trying to give the market economy a human face. Privatisation was described as peoplisation but these moves were mainly or merely words. There were no real structural adjustments for a re-distribution of wealth and to focus on national production. To a large extent this is the policy where the Rajapaksa Government is concerned with its two main economic planners Treasury Secretary P.B. Jayasundera and Central Bank Governor Ajith Nivard Cabraal appearing to go here and there muchlike nowhere menina nowhere land.
Source: Daily Mirror - Sri Lanka