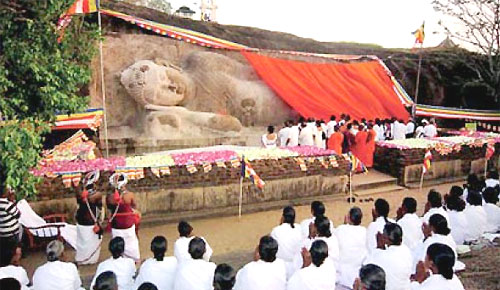 The recently discovered Buddha Statue in the Tanthirimale sacred area has been restored to be conserved. At the time of discovery, the statue was damaged, probably by treasure hunters. The ceremony of unveiling the restored statue for worship was held on Vesak Poya day (5) evening.
The restoration of the statue was done under the supervision of the Archeological Department on guidance of the National Heritage Ministry. The restoration of the statue commenced following a request made by the Thanthirimale Raja Maha Vihara Chief Incumbent and the North and East Deputy Sanga Nayaka Ven. Thanthirimale Chandarathana Thera to the President Mahinda Rajapaksa. This ancient striking statue, 45 feet long was created on a stone plateau towards the northern slope of it.
After the Anuradhapura reign this statue was hidden by a dense forest. When it was discovered some years back, the face with a part of the head, the upper part of the right hand and the head- rest was severely damaged by treasure hunters. According to the archeologists these damages seemed to have been caused during the 19th century.
The area was first discovered and named as a sacred place by the late Ven. Kudakonegaskada Wimalagnana Thera in 1960s. Subsequently the damaged statue was restored to a certain extent by the archeologists.
The present Thanthirimale Raja maha Vihara Chief Incumbent Ven. Chandarathana Thera is making a great effort to develop this ancient sacred place. The restoration work is a part of the development activities inaugurated by him.
A prominent sculptor S.A.GAYan has restored the head of the statue protecting its ancient craftsmanship under the guidance of the Archeological Department.
There are only two other statues of this nature in Sri Lanka considering the size and marvelous art of sculpture, namely the sleeping pose at Gal Viharaya in Polonnaruwa, Buduruwagala says the Archeological Director general Dr. Senarath Disanayake. There are more similarities between the Polonnaruwa statue and the Thanthirimale statue says the Director General. The ceremonious for the unveiling of the statue was done by the Ministry of National Heritage Secretary Ms Kanthi Wijetunga,
After the unveiling, floral pooja was offered to the statue by the Ministerial Secretary, Archeological Director General Senerath Dissanayake, Senior Assistant secretary of the Ministry Vijitha Nandakumara , Addition secretaries D.G. Samarasinghe,and Sujatha Corey, Anuradhapura Additional District Secretary P.hettiarachchi. Archeological Assistant Director Mahinda Weerakkody, North Central Dy. Chief Secretary Keerthi Gamage, and several security forces officials, and devotees.
Source: Daily Mirror - Sri Lanka