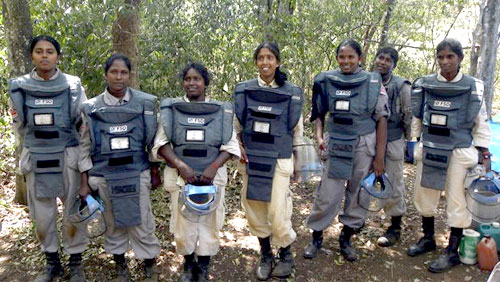 A total of 791,620 mines have been cleared and destroyed by the Army Field Engineers and de- mining organisations in a land area of 1936 sq km by using mechanical and manual methods.
Only an area of 124 sq km is left for de mining in Mulaitivu. Over 1500 soldiers and 29 flail machines have been deployed for these activities.
These clearing operations were conducted in the Jaffna, Mannar, Kilinochchi, Mulaitivu, Trincomalee, Batticaloa, Vavuniya, Polonnaruwa and Anuradhapura districts, Military spokesman Brigadier Ruwan Wanigasuriya said.
In the Northern Province 1314 sq km out of 1418 sq km had been cleared, in the Eastern Province 622 sq km out of 640 sq km had been cleared and in the North Central Province 0.24 sq km out of 2.7 sq km had been cleared.
Most of the mines were detected in Jaffna (219,940), Kilinochchi (214,240), Vavuniya (118,054), Mulaitivu (104,351) and Mannar (103,265).
Several international organisations in coordination with a local organisation had been involved in the de-mining in selected areas in the Northern and Eastern provinces.
The de-mining process started after an initial survey following the end of the war which identified 5000sq km in the three provinces as vulnerable areas. Following a technical survey, the area infested with mines was proven to be 2061 sq km.
Source: Daily Mirror - Sri Lanka