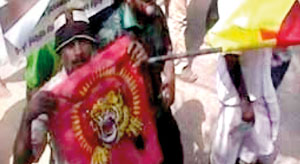 ITN Chairman Rosmand Senaratne has informed UNP General Secretary Tissa Attanayake that the video clips telecast on his TV channel showing a group of men waving LTTE flags were provided by the Defence Ministry, party sources said yesterday. In a letter addressed to UNP General Secretary Mr. Senaratne had said no one from the ITN had covered the event.
Responding to a question raised on the matter by journalists at a news conference yesterday, UNP Colombo District MP Ravi Karunanayake also confirmed this saying Mr. Senaratne had responded similarly to the inquiry he ( Mr. Karunanayake ) had made from him.
Mr. Karunanayake therefore said those who waved LTTE flags should have been arrested immediately. "Authorities should arrest these men now as they can be easily identified by the video clips,' he said.
Source: Daily Mirror - Sri Lanka