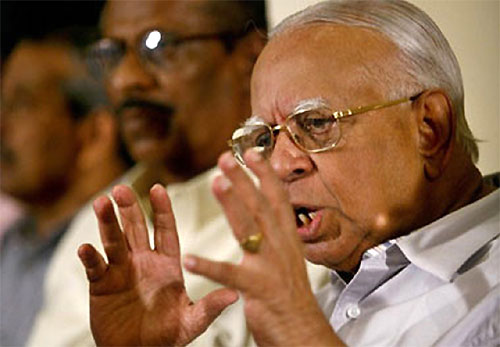 In the wake of the Sri Lanka Muslim Congress (SLMC) coming forward to mediate the currently stalled political talks, the Tamil National Alliance (TNA) yesterday said the SLMC leadership should try to encourage the government to restart bilateral talks with them instead of persuading them to join the proposed parliamentary select committee. Earlier, the SLMC said the party would play the role of mediator between the TNA and the government. The party led by Justice Minister Rauff Hakeem said the TNA would be encouraged to join the select committee.
However, in response to these remarks, TNA MP Suresh Premachandran said the SLMC should work towards reinitiating the political dialogue instead of ' persuading the TNA to join the select committee.'
"I do not know whether he can do it," Mr. Premachandran said.
The TNA said it was not ready to nominate its members to the select committee unless the government resumed bilateral talks first.
Leader of the House and Minister Nimal Siripala de Silva said the government subscribed to the stand that the TNA should participate in the select committee proceedings to work out a political solution in consensus with all the parties concerned. However, in response to these remarks, TNA MP Suresh Premachandran said the SLMC should work towards reinitiating the political dialogue instead of 'persuading the TNA to join the select committee'
Source: Daily Mirror - Sri Lanka