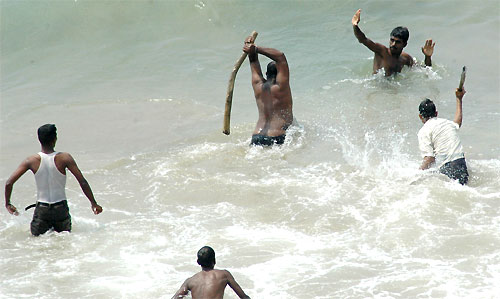 A suspect who had been in remand custody for over three years in connection with the drowning of a mentally unstable youth off the Bambalapitiya beach in 2009, yesterday told court that only he had been in remand while the others including a policeman involved in the incident had been released on bail.
Revealing another aspect of the tragedy that resulted from the drowning of the mentally unstable Balawarnam Sivakumar at the Bambalapitiya beach in 2009, the only remanded suspect in the case informed Court that he was in remand for nearly three years even though he had done nothing wrong. Expressing his grievances to Colombo Fort Magistrate, Pathiranage Raja the third suspect in the case told in open Court that he had come towards the scene with the intention of rescuing the victim as he had been forced to do so by the police.
The suspect Pathirage Raja was a daily wage worker by profession and alleged that he had been named as a suspect by police without a proper reason. When the case pertaining to the matter came up before Magistrate Kanishka Wijeratne, the suspect told that the Court could scrutinise the video footage regarding the incident and take a decision on him. He maintained that he was not even appearing in the video footage. He further told Court that he did not get involved in the incident to harm the deceased.
Meanwhile, the suspect also said a sub inspector who had allegedly been involved in the incident had been reinstated in the police service after he was granted bail. Finally, he pleaded from Court that he be released on bail.
In reply, the Magistrate observed that he did not have power to enlarge him on bail and requested the suspect that a bail application be filed in the High Court. At that time the suspect told Court that he was not in a position to file a bail application and did not even have any relatives to come forward as sureties.
Having heard the grievances made by the suspect, Magistrate Kanishka Wijeratne referred the matter to the attention of the Legal Aid Commission and said it was the only thing he could do. Accordingly, the Magistrate directed the prison authorities that necessary measures be taken over the issue. It was further revealed that the Attorney Generalís advice regarding the case was still pending. The suspect was further remanded till May 17.
In this case, the first suspect Dimuthu Somnas a police constable of Bambalapitiya police died at the Welikada Remand Prison Hospital on January 1, 2010 after a brief illness. The second suspect H.M. Wirendra Weerawardena was a Sub Inspector attached to the Bambalapitiya police station and he is currently out on bail.
Source: Daily Mirror - Sri Lanka