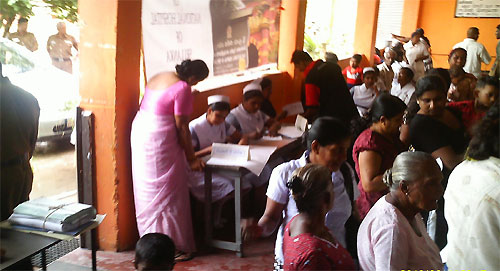 Some importantand largely unknown facts and figures relating to healthcare financing in Sri Lanka and how they tend to retain health as a welfare subsidy or promote it as a market commodity were highlighted by Dr. Joel Fernando of the Post Graduate Institute of Medicine when he gave the memorial oration to mark the first anniversary of the death of one of Sri Lanka's leading patients' rights activists Dr. K. Balasubramaniam.
The government and health ministry especially need to know the unknown factors behind the economics of the health service because if Sri Lanka chooses the second option and puts health more in the market, it will mean leaving the poor to die and any talk of health for all will be crap or hypocrisy.
Then according to Dr. Fernando healthcare financing refers to the ways in which money is generated to pay for health services. Sources of health care financing can be broadly categorized as public or private. An insight on healthcare financing must necessarily be linked to service provision for it to be relevant. There are four possible approaches to financing and provision of health care -- Public financing and public provision, public financing and private provision, private financing and public provision and private financing and private provision.
Different countries use varying mixes of these four approaches. Sri Lanka is mainly using the first and fourth approaches.
The private sector plays a major role in outpatient care by providing services for 60% of the total outpatients. The expenditure for a person treated is three times the cost for a person treated in the public sector. The share of inpatient care provided by the private sector is only 10% of the total inpatients treated. However the cost for an inpatient treated in the private sector is more than three times that of the public sector. Financing of the equity oriented public sector healthcare continues to receive priority attention of the government, Dr. Fernando says.
Private outpatient care services are the fastest growing segment of health services. Continued vigilance and pressures by citizens are required to strengthen the hand of the government to retain and further develop the welfare model healthcare delivery system.
Promoting markets to attract financing for private sector healthcare for those who can afford to pay can result in increasing healthcare costs and undermining public sector healthcare. The government must play a key role in mitigating such unwanted effects of promoting markets.
Among the audience present was Professor Carlo Fonseka, Chairmanof thesrilanka Medical Council (SLMC). We hope the SLMC and the Ministry of Health will be able to work with Dr. Fernando in maintaining and promoting a welfare model healthcare service instead of promoting the market service.
Source: Daily Mirror - Sri Lanka