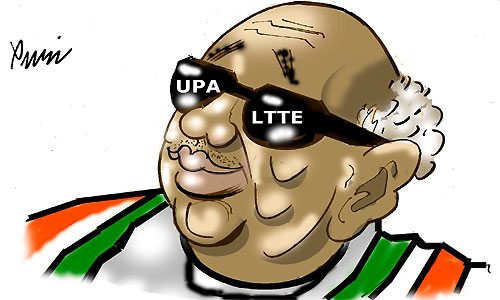 Nuwara Eliya District MP and head of the political wing of the Upcountry People's Front V. S. Radha Krishnan yesterday said that DMK leader and former Tamil Nadu Chief Minister M. Karunanidhi's recent statement that an Eelam should be established in Sri Lanka had been made with the ulterior motive of creating an unpleasant situation for the Tamils in Sri Lanka.
The MP expressed these views at a press conference held at his residence in Nuwara Eliya.
"Recently a team of MPS from India led by its opposition leader visited Sri Lanka, unfortunately no one from Tamil Nadu participated. At that time the former Tamil Nadu Chief Minister M. Karunanidhi said that he was firmly committed towards setting up of an Eelam in Sri Lanka. But, the TNA leader R. Sambandan has said that power should be devolved under undivided Sri Lanka and the LLRC recommendations should be implemented. At a time when most of us also hold the same view as Mr. Sambandan, the statement by Karunanidhi is to purely create an unpleasant situation for the Tamils in Sri Lanka," he said.
Mr. Radha Krishnan also said when Mr. Karunanidhi functioned as the Chief Minister of Tamil Nadu three years ago, the support extended by him to the Central government was really remarkable as it was considered a great strength. During this time he never propagated this idea of Eelam, however in defeat he is trying to win the popularity from among the people in Tamil Nadu and build up his political image through this.
MP Radha Krishnan also questioned about the present position regarding the report issued by Karunanidhi's daughter Kanimoli after visiting Sri Lanka with a group some time back when Karunanidhi was Chief Minister of Tamil Nadu. This amply demonstrates his plight as a defeated politician, being inactive while in power and rousing the minorities to create a tense situation when fallen from power. If he really loved the Tamil people in Sri Lanka he should support power devolution.
"We vehemently condemn the statement purported to have been made by Karunanidhi," MP Radha Krishnan said.
Source: Daily Mirror - Sri Lanka