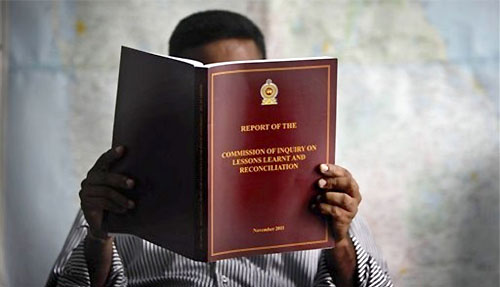 The Sri Lanka Muslim Congress (SLMC) has appointed a committee to study the recommendations put forward by the Lessons Learnt and Reconciliation Commission (LLRC) and submit its proposals to the government on the implementation of them, the party said yesterday. The SLMC, the largest Muslim party, accused the LLRC of failing to address Muslim aspirations.
The government has sought the views of its alliance partners to prepare an action plan on the implementation of recommendations by the LLRC. The Commission mainly recommends the strengthening of the democratic system, addressing the accountability issues and evolving a political solution.
SLMC General Secretary and MP M.T. Hasan Ali told the Daily Mirror yesterday that the party's High Command met on Saturday and appointed a committee to study these recommendations. It comprises leader Justice Minister Rauff Hakeem, Mr. Ali, Kalmunai Deputy Mayor Nizam Kariapper, A.M. Faize and M.N.M. Salman.
The General Secretary said, "We are concerned that the LLRC has not dealt with Muslim issues adequately. There are some general recommendations in it. We have to study all of them before submitting our proposals.
The Jathika Hela Urumaya, another ally of the ruling coalition said that its proposals would be handed over to the government this week.
"We have to shortlist all 285 recommendations in the report. Then, we will identify the recommendations that warrant immediate attention, and the areas where the LLRC has overstepped its mandate," JHU theoretician and Minister Patali Champika Ranawaka said.
The Mahajana Eksath Peramuna led by Minister Dinesh Gunawardane and Communist Party leader and senior Minister D.E.W. Gunasekara also said that their recommendations would be handed over to the government this week.
Source: Daily Mirror - Sri Lanka