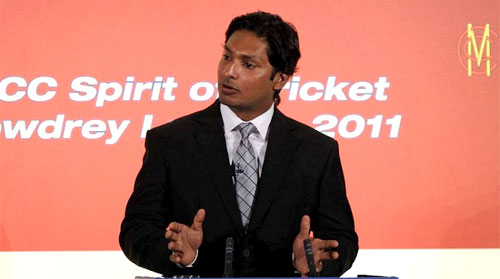 "I am Tamil, Sinhalese, Muslim and Burgher. I am a Buddhist, a Hindu, a follower of Islam and Christianity. I am today, and always, proudly Sri Lankan." -Kumar Sangakkara, MCC Spirit of Cricket Cowdrey Lecture
Up to date, the lines uttered by kumar sangakkara in his cowdrey lecture, remain the most quotable ones on reconciliation in Sri Lanka. However, instead of being garlanded on his return home,he was subjected to the wrath of high heads who even went to the extent of calling for an explanation from the former srilankan captain.
If the Cowdrey lecture bruised the egos of many high heads, the scars were to remain longer. At least that was the impression the Sri Lankan Cricket (SLC) gave, when it denied the left-hander the chance to be interviewed by the Wisden Almanac in which he was named the Leading Cricketer in the World 2011 and one of Wisden's Five Cricketers of the Year for 2012.
If Mr. Sangakkara was critical about the politicisation of cricket, the SLC resorted to second his words by sidelining the man who was brave enough to call a spade a spade. However, up to date, the institution or the ones in the higher echelons have failed to remedy the points highlighted in the well praised lecture. This, however, is not Mr. Sangakkara's fault. He performed his duty to the cle for the wellbeing of cricket are insensitive to the continual malpractices and incongruities, does not mean mr. Sangakkara deserves to be punished for his sensitivity.
By denying him the opportountry by opening the eyes of those who were willfully dormant to the prevailing impunities. In fact, it was too much to expect from a sportsman who had already done his best by leading Sri Lanka to the finals of a world cup. Thus, just because, those responsibunity to be interviewed, SLC has become bad news. The fact that he is a contractual player does not mean his freedom of speech could be hindered. As the lackluster congratulatory message issued by the SLC says, the honour is 'not only a global recognition but a national achievement by a true son of our soil.' Hence, he should be given the freedom to act like a 'true son of our soil' for during his tenure as a national player he has performed a better ambassadorial duty than many of those appointed put together.
Thus, he has earned the right to be truly Sri Lankan. In today's context where the margin between patriots and traitors are clearly defined, anything or anyone standing between a person and his 'Sri Lankanness' is an act of treason. This, however, may not be an accolade the SLC is aiming to earn right now.
So, if someone suffers from an itch to gag blabber-mouths, he should watch over the cabinet. After all, Mr. Sangakkara didn't try to be too smart by saying Rs. 7500 was sufficient for a family to live comfortably for a month!
Source: Daily Mirror - Sri Lanka