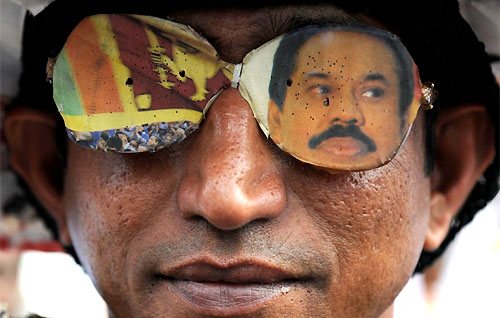 Last week we had with us an Indian parliamentary delegation to monitor the ground realities in the North and East. The need is felt to resolve national issues by seeking a lasting and durable political solution. From the time of our being granted independence, certain politicians have been responsible for sowing seeds of division, for expediency and selfinterest. This has caused immeasurable destruction and loss of lives. One of Tagore's songs is more relevant more to this time of history than any other. "The world today is wild with the delirium of hatred, the conflicts are cruel and unceasing in anguish, crooked are its paths, tangled, its bonds of greed. All creations are crying for a new birth of, O thou of boundless life, save them, raise thine eternal voice of hope, let love's lotus with its inexhaustible treasure of honey, open its petals in Thy Light. Let Thy immeasurable mercy and goodness wipe away all dark stains from the heart of this earth."
Those in authority from politicians to heads of households could carry within the dark stain of distortions. In fact the development of all human personality is to be aware of its presence within. This is what causes division and disharmony, whatever strata of society we find ourselves in. We are called upon morning after morning to listen to that voice of silence that bears a Word that sustains the heavy human psyche. This is a far cry from listening to a babble of words spoken by so many voices; having distorted minds. Voices thus spoken could be out of self-interest.
It appears that in no other time of our history have we had such a strong government. This could be a decisive moment for a lasting political solution to be found and implemented for lasting peace. Yet it seems that in its strength, the government is hindered by the diverse political views held by its constituent parties, to come up with any tangible solution.
There is an answer, a solution or a discovery waiting to be grasped. Every great revelation or scientific discovery has been received by those seeking in the realms beyond. Such discoveries bring on an inner freedom with hardly any constraints. Those solutions we seek through persons seeking self-interest, would be oppressive, to say the least. Every true and great leader that history has given birth to has ventured to think out of the box -- those who search higher realms for answers and solutions. For example, to think within the confines of the 13th Amendment, could be oppressive and have constraints that hinder. Yet there could be the possibility to think beyond and out of it. This might afford an answer not thought of but acceptable to all, that too, one that gives greater freedom and probably more than the 13th Amendment. The same stream of life that runs through our veins runs through the world. Surely then we need not fret to deal with family crises; business crunch or confusion in solving national problems. We swim into the world of the unknown, till we stumble unto what had been there from eternity. Knowing for sure the supernatural yearns for us to receive its treasure.
Source: Daily Mirror - Sri Lanka