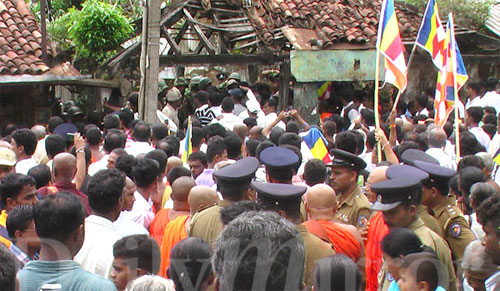 Sri Lanka may lose the support of Muslim countries if attacks on mosques continue, the main opposition UNP said yesterday. The party made this point while condemning the incident that took place in Dambulla yesterday morning.
UNP MP Kabir Hashim told a news conference that the people in this country would be compelled to use alternative ways to secure their rights if the government failed to safeguard the people's right to engage in their religious observances freely.
Mr. Hashim therefore blamed that the attack was done by a government backed armed gang before the eyes of the police and the army. Besides Mr. Hashim said this particular mosque was registered with the Department of Muslim Affairs and therefore no one could claim it was illegal.
Mr. Hashim said the authorities should have filed legal action against the custodians of the mosque if there was any suspicion on it. UNP Western Provincial council Member Mujibur Rahaman said Muslims would have to go to Geneva next time to safeguard their rights. He questioned as to what action the Muslim MPS in the government would take about it. "There are 29 Muslim MPS in the government and one wonders whether they are going to be quiet about it," he asked. He said one could not claim that the mosque in question was an illegal one as it had existed for more than 70 years.
Source: Daily Mirror - Sri Lanka