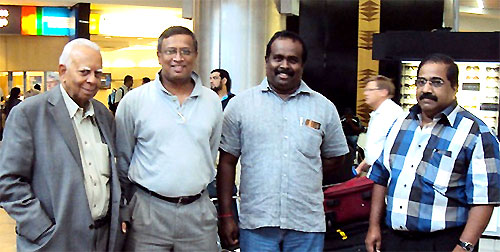 The Tamil National Alliance (TNA), during their meeting with the Indian parliamentary delegation, had emphasised that land and police powers should also be devolved to the provinces.
The government has in the past categorically refused to devolve such powers to the provinces.
TNA media spokesman Suresh Premachandran MP told Daily Mirror yesterday that the Indian delegation, led by opposition leader Ms. Sushma Swaraj, had assured his party that it would take up all these matters with President Mahinda Rajapaksa during their stay here.
The 12-member delegation held talks with the TNA leaders on Tuesday. TNA MP Suresh Premachandran told Daily Mirror yesterday that his party had briefed the delegation about the delay in evolving a political solution.
"When we ask for land and police powers, we are branded LTTE proxies. The LTTE asked for a separate state. We do not ask for that," he said.
He said that the sectors in which the TNA wanted power to be devolved were similar to those in which powers were devolved to the state governments in India.
"We asked the Indian delegation to consider the powers being enjoyed by their state governments," he said.
Mr. Premachandran said that the TNA had submitted its proposals to the ruling party, but the political dialogue that had lasted for more than one year had been suspended by the government. "The government asked us to nominate our representatives to the parliamentary select committee. When we were unable to reach an understanding at a bilateral forum, how could we do it at a multilateral forum such as a select committee which includes some hardliners?" he asked.
The delegation, headed by Ms. Swaraj, and comprising representatives of several prominent political parties from both houses of Parliament, arrived in Colombo on April 16, 2012.
The delegation had called on Economic Development Minister Basil Rajapaksa last morning and been briefed on reconstruction work undertaken by the Government of Sri Lanka.
The Indian delegation had thanked Mr. Rajapaksa for enabling them to visit the Menik Farm IDP Camp and the resettled areas in Puliyankulam. They had noted the efforts of the Government of Sri Lanka in the field of rehabilitation and resettlement, and underlined the need for progress towards a political settlement.
The India delegation visited Jaffna yesterday and had a discussion with MPS, local government members and civil society activists. The local government members had raised concerns that the government had not allocated adequate funds for them to carry out development work. They had also told the delegation that the presence of the military in the north should be scaled down and the high security zones dismantled.
Source: Daily Mirror - Sri Lanka