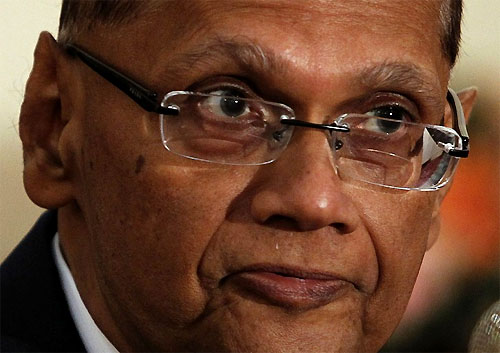 During the discussions between the visiting Indian Parliamentary delegation and the Minister of External Affairs Prof. G.L. Peries last afternoon, the two sides had exchanged views on how to begin the process of the Parliamentary Select Committee and a political solution.
Minister Peries told the Daily Mirror that no issues with regards to the Indian vote at the United Nations Human Rights Council had been discussed, instead a cordial discussion focused on the development of the mutual relationship between the two countries had been addressed.
"We briefed the delegation on the implementation of the LLRC recommendations and the priorities of the government. We also explained to them the specific agencies that would be involved in the implementation process. They asked questions from us, which demonstrated a genuine will to help with the process," he said.
The Minister mentioned that although specific discussion on the 13th Amendment had not taken place, it was included in the agenda of establishing the PSC and discussing the necessary constitutional amendments for a political solution. He further notes that there was no pressure exerted from the side of the delegation and rather the meeting was a means of being well informed by the Sri Lankan government of the reconciliation process that is ongoing.
The delegation was briefed earlier in the morning by Economic Development Minister Basil Rajapaksa on the development work in the North and thereafter met with the Leader of the House Nimal Siripala De Silva and other members of the government.
The delegation was set to meet the Tamil National Alliance last evening. They will also meet with other Tamil parties including the Ceylon Workers Congress and other political parties. The delegation is also set to visit the North and the East as well as the IPKF war memorial. The delegation will leave the island on Saturday.
Source: Daily Mirror - Sri Lanka