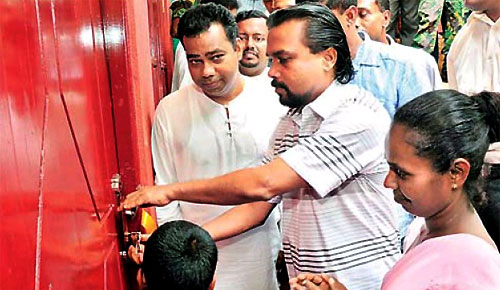 Politicians engaged in clean politics do not seek Police assistance, but those who do politics with the assistance of the underworld and drug barons always expect the help of corrupt policemen for their political survival, Minister Wimal Weerawansa has said.
Addressing a ceremony held to hand over a house to an extremely destitute family at Samudra Mawatha, Galpottagama, Athurugiriya, Constructions, Housing and Common Amenities Minister Weerawansa went onto say that there were certain state institutions where a public work could not be done not either by an opposition politician or even by a government politician.
"I do not have aides who associate with thugs and drug mudalalis. Therefore, I do not want police power for my politics. I seek police assistance to get justice done on each and every citizen equally," Minister Weerawansa stressed.
Minister Weerawansa charged that there was a time when all three police stations in the Kaduwela constituency acted to satisfy a certain politician. The police did not grant permission even to hoist a flag to an opposition politician. However, the situation now has taken a change for the good. All three police stations now serve the people without political interference, he said.
More than 500 l ow income families in Kaduwela have been granted housing loans by the Housing Development Authority (NHDA) without questioning their political affiliations.
The police in the area have been able to control the menace of drugs prevalent in the area after political leadership directed the police to do it, he said.
Commenting on the differences between the government politicians in Kaduwela, Minister Weerawansa stressed that unhealthy relationship among them has curtailed smooth progress in Kduwela.
He made an appeal to all to be united and like they were during the ethnic conflict and work as one to develop Kaduwela as the city has a lot of potential to be the richest and most modern suburb of Colombo among others.
Opposition leader of the Kaduwela Municipal Council, Priyantha Pathberiya commended minister for his non-political service in Kaduwela and also for creating an environment for all politicians to engage in their political activities without fear or favour.
Source: Daily Mirror - Sri Lanka