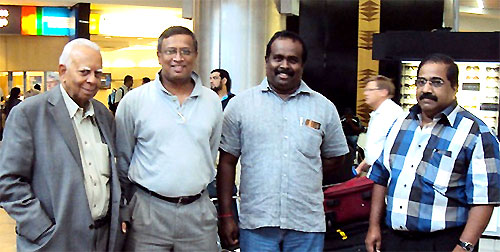 The Tamil National Alliance (TNA) is split over its decision to hold the May Day rally with the main opposition United National Party (UNP) in Jaffna this year, Tamil politicians said yesterday. The TNA took this decision recently after a series of meetings.
TELO political leader M.K. Sivajilingam said TELO and two other parties were opposed to this decision. He said any political alignment with the UNP at this time would be interpreted by the government as being too confrontational.
"Any alignment with the UNP for any such joint event will send a wrong signal to the government. We have to take a neutral stand. Appearing to be too confrontational with the government will be bad for us," Mr. Sivajilingam said. The Tamil United Liberation Front (TULF) and the People's Liberation Organization of Tamil Ealam (PLOTE) are also opposed to holding a joint May Day rally with the UNP.
When asked for a comment, UNP Vice President Lakshman Kiriella said his party decided to team up with the TNA for this event to stress the need for the southern parties to reach out to the minorities. He said the UNP wanted to convey to the international community that there were parties in Sri Lanka willing to work with the minority parties in a united Sri Lanka.
"We want to convey the message that in Sri Lanka there are parties willing to give equal rights to all the communities. The time is ripe now for democratic political activism in the North, which were severely affected as a result of terrorism," he said.
Source: Daily Mirror - Sri Lanka