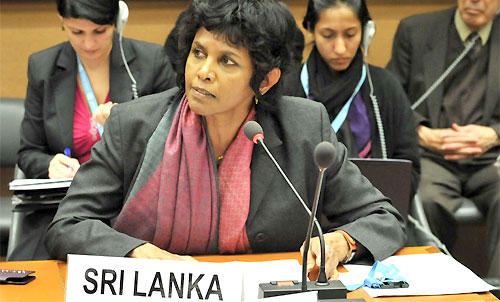 A top Sri Lankan diplomat yesterday said that the LTTE had increased its political activities in Latin America and therefore the government should vigorously counter such propaganda by strengthening its missions in that region.
Sri Lanka's Permanent Representative in Geneva Ms. Tamara Kunanayakam told the Daily Mirror that Sri Lanka should have missions covering every region in the world, and highlighted that Latin America and Africa were becoming increasingly important for Sri Lanka at the moment.
Ms. Kunanayakam who played a key role in the country's lobbying spree against the Us-sponsored resolution at the UNHRC said the LTTE had increased its overseas activities after the end of the war, and they had now gained access to Latin American countries.
"I know for a fact that LTTE activities have increased in Argentina. We must focus on the region in particular. Their activities are reported in the mainstream media of that country. People in that country will read about Sri Lanka from the western media. Or else, they will listen to propaganda by various NGOS such as the Amnesty International and the Human Rights Watch. Therefore, we have to counter them," she said.
She also recalled how she dealt with such activities of the organization in Venezuela during her ambassadorship in nearby Cuba earlier.
"Our diplomatic presence is only in Cuba and Brazil in the region," she said.
Commenting on the resolution adopted at the United Nations Human Rights Council (UNHRC), she referred to it as a 'moral victory' for Sri Lanka because the country lobbied against it on principle.
She said some countries supported the resolution along with the US because they were international allies.
"Ambassadors of some countries that voted against us spoke to me. They said they did it because of their alignment with the US in various international groupings. Therefore, this is only a victory for the US with devastating consequences," she said.
Source: Daily Mirror - Sri Lanka